Shrink Sleeves are made primarily from either PET or PVC. Unlike self-adhesive labels, the printing is done on the back side of the material. This is known as reverse printing, which is done to protect the ink from scuffing. After the material is printed, it gets put onto a sleeving machine where the sleeve is glued together (this process is known as welding), to give it its cylindrical shape to enable the end user to apply it to their container.
Sleeves are supplied to the end user either on a roll or individually. If the user does require the sleeves individually, another step is added to the process, named cut and stack. During the cut and stack process, the labels are individually cut by a machine.
The option of adding a perforation is also available for both roll or cut and stack products.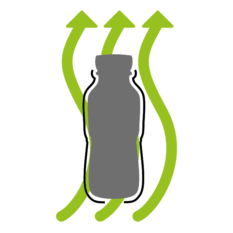 GM Graphix is a flexographic printing company established in 1989 and situated in Alrode, Alberton.
© 2021 GM Graphix (Pty) Ltd. All rights reserved.